BODA SKINS
Outerwear + Leather Jackets for Men & Women
"After using Style.me for only 3 months we've realized this is an absolutely essential part of our online store. Not only have the metrics been outstanding, but most importantly, customers are also telling us they love the tool. We are getting far fewer enquiries around sizing and returns after launching the fitting room."
The Masters of Leather, Shearling and Metal
Boda Skins specializes in hand-crafted leather jackets and outerwear for both men and women; worn by celebrities and fashionisters throughout the world.
Boda Skins is born in Manchester (UK) and on a quest to create the best products in the world that are timeless, stylish and fit like a second skin for a lifetime. They make jackets for legendary individuals who value quality and integrity without compromise.
Boda Skins aims to rewind the clocks to the good old days when clothes were made to withstand the test of time – they call the movement Slow Fashion. Slow down, create quality over quantity – forging a relationship with what you wear. Longevity. Satisfaction.
Their sustainability actions are to reduce carbon footprint and waste through responsible leather sourcing and improved manufacturing processes. Working towards a greener future for generations to come.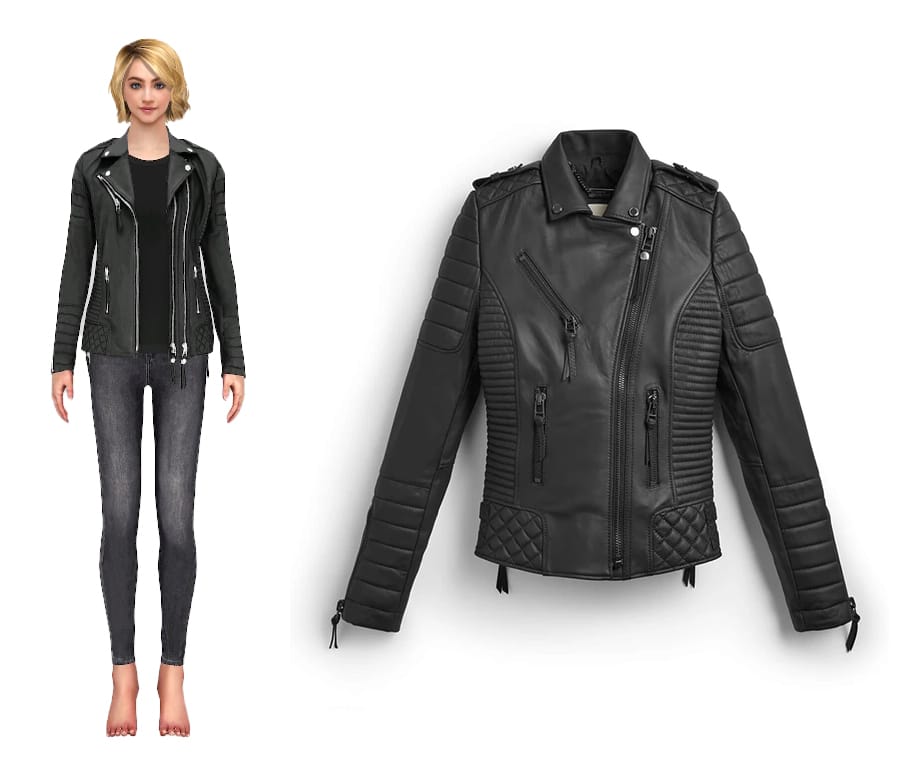 Finding the Perfect Fit.
Sizing for Global Markets.
Challenges of Outerwear
Jackets and outerwear are seldomly purchased on a regular basis and customers are faced with several challenges when buying online:
Size
Fit
How it looks on their unique body
These factors have a direct influence on the customers' confidence to purchase. Furthermore, Boda Skins caters to a global audience, where size and fit differ across countries, making the online shopping experience even more challenging. If the customer is unsure, he/she will likely not convert – this is where Style.me's fitting room shines and significantly impacts Boda Skins' online business. Providing a simple and engaging tool to tackle size and fit challenges.
Elevating Boda Skins' Online Experience
Accurate sizing and visualization for the perfect jacket
Customers looking to purchase a handcrafted leather jacket that they will use a lifetime makes sizing and fit crucial, but these alone are not sufficient – visualization makes a major difference. Style.me's 3D fit recommendation engine maps Boda Skins' apparel to the shoppers' unique measurements and body shapes, allowing them to find a perfect fit. Shoppers have the opportunity to see how the clothing looks on their unique body replica inside the fitting room. These three crucial elements combined increase the confidence to purchase – allowing the shopper to find their ideal jacket that will last a lifetime.
Customization Consistent with Brand Identity
Style.me's virtual fitting room plugs into the site as a Shopify plugin, but the styling of the tool doesn't stop there. Boda Skins is a brand with a personality, a Boda Skins character that should be consistent across their online store. The fitting room solution was customized to match the look and feel of the site. Quick and easy onboarding process doesn't disrupt, but instead enhances the shopping experience, allowing customers to quickly access their personalized fitting room.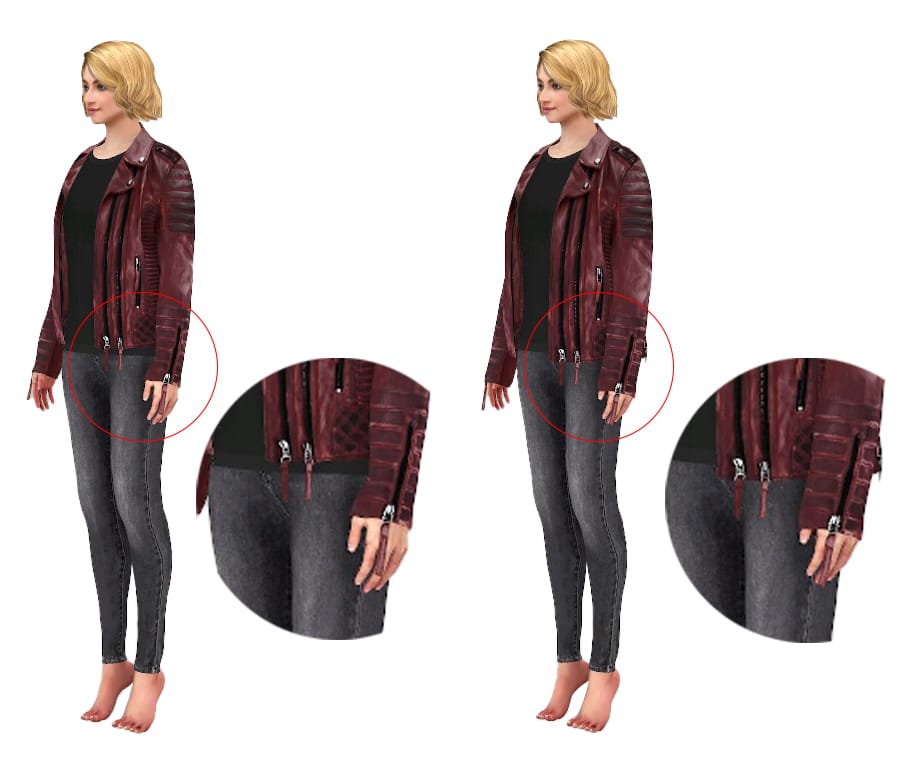 Click Image to Enlarge. Image showing the same body measurements, but two different sizes of a jacket, allowing to view and compare the details, i.e. jacket sleeve length. Customers want a size that fits, but they also have different ideas on what is their ideal size, fit and look – visualization makes this possible. Level of tightness can be further visualized inside the Fit Guide.
The Impact of Virtual Fitting on Boda Skins
Retention
+115%
After implementing Style.me's virtual fitting room to their online store, Boda Skins grew their retention rate 115% over a 1 month period. Virtual fitting delivering improved customer journey and resulting in fewer calls and enquiries on fit and sizing.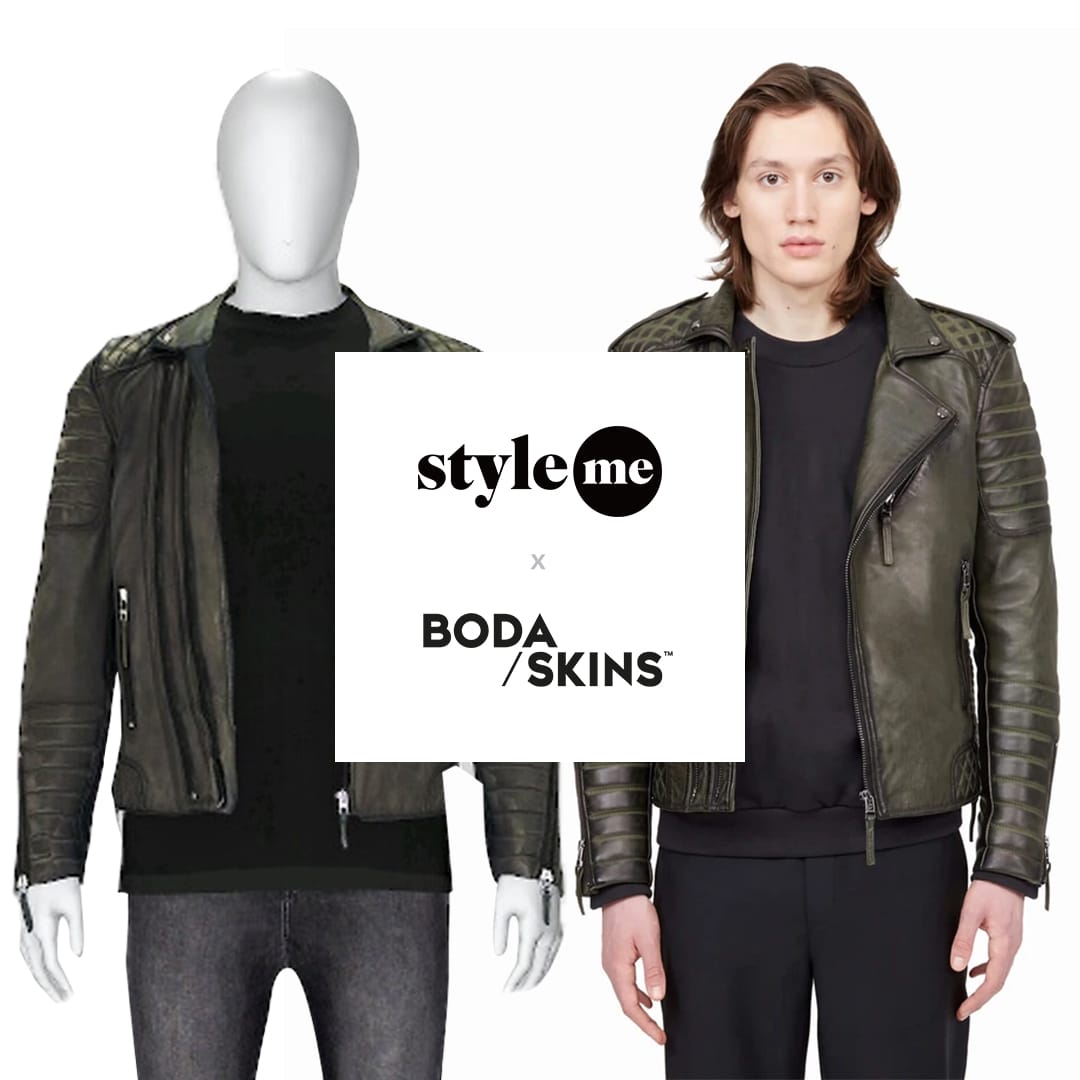 Video Walkthrough
Virtual fitting room video walkthrough on Boda Skins' online store (Men)