Men's swimwear brand embracing fit technology, taking sustainability to a whole new level
Brands are starting to focus on improving production, prioritizing sustainable materials. But, what about the less-addressed issue of product returns?
Imagine Sydney harbor filled up with thrown away clothes. This is the harsh reality of the current state of the fashion industry. 85% of textiles get dumped each year and the industry's carbon emissions exceed those from international flights and maritime shipping combined.
Brands are starting to focus their attention on improving production, prioritizing sustainable, recycled, or compostable raw materials. This is an important and positive beginning, but what about the less-addressed issue of product returns? Online and offline returns cost retailers nearly $400 billion annually, and that's just the financial impact.
The promise of free returns from fashion retail sites has long been the norm and is one of the surest ways to boost online sales, yet it comes with a dark side. What is commonly touted as the "free" return is far from free when you count the environmental cost in the form of a massive carbon footprint created by persistently transporting goods to and fro. The environmental cost of transporting just one item using a courier is 181g of CO2.
Product returns significantly increase the carbon footprint
Instead of buying just one shirt and returning it if it doesn't fit, or you don't like it, it is now acceptable – and even expected – to order three shirts, and return the ones you don't want, especially as this has no cost to the customer.
At the same time consumers are increasingly shifting priorities when making purchasing decisions, changing their focus from "newness" to "sustainability," according to a report by McKinsey regarding the impacts of the pandemic on the fashion industry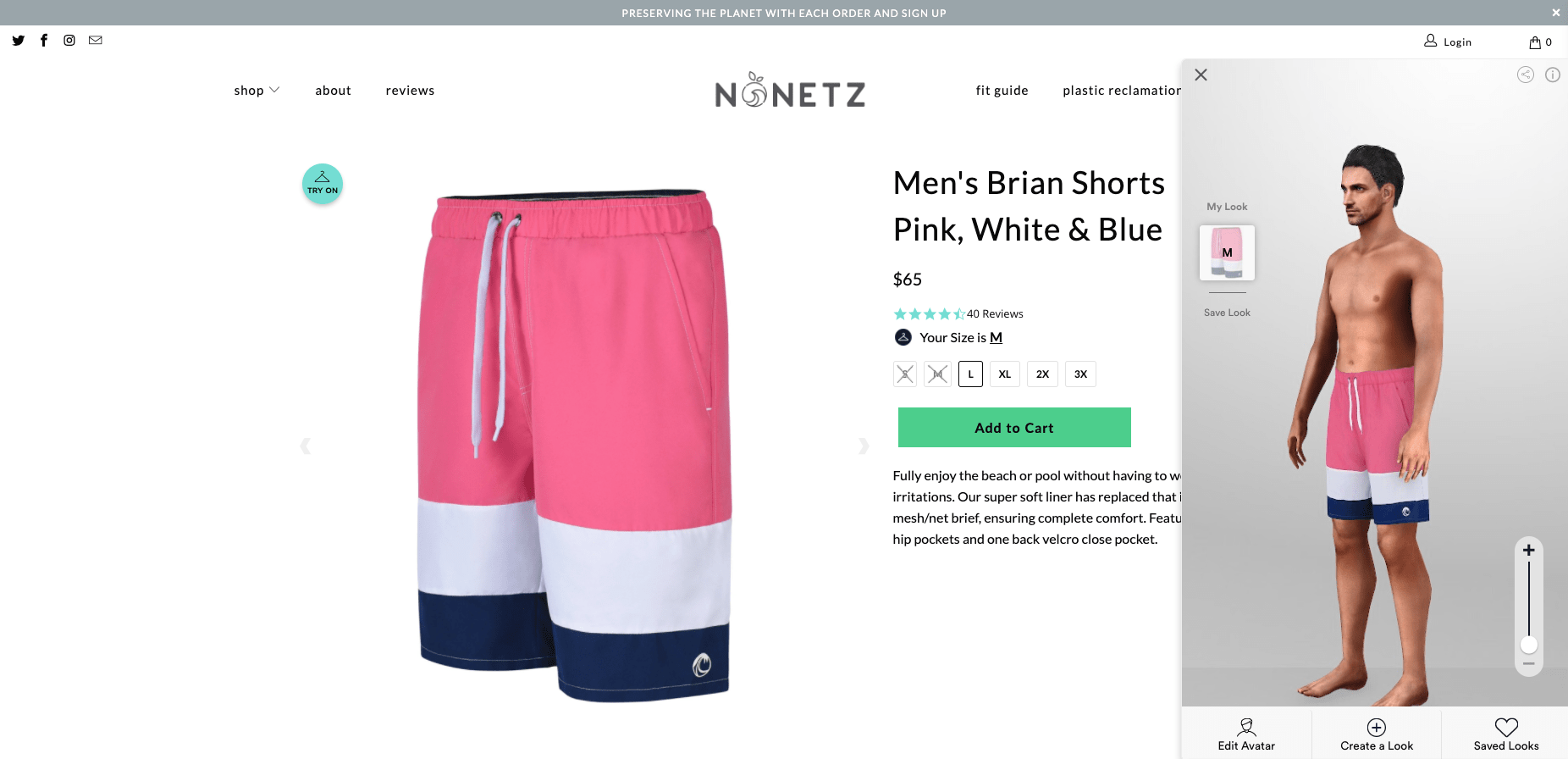 Style.me's Virtual Fitting Room on Nonetz's online store
Men's swimwear brand NoNetz is a great example of a brand that is committed to pursuing sustainability throughout their business model. Nonetz uses recycled plastics in their fabrics, collects plastic waste from oceans, plants a tree for every newsletter signup and now take sustainability to a new level with virtual fitting. Not only elevating the customer experience, but importantly reducing the carbon footprint by providing accurate sizing and reducing returns.
When you consider that globally, 17 billion items are returned every year, this equates to around 4.7 million metric tons of CO2 or equivalent the amount of power generated by 57,000 US homes over an entire year.
Fashion retailers must ask themselves how to tackle the enormous climatic impact of unwanted fashion items and free returns? Being in a position of influence when it comes to these issues, retailers can play a seminal role in reeducating the market, both by changing their practices and raising awareness around the environmental cost of retail returns.
Digital transformation provides confidence.
Say goodbye to buying multiple sizes of the same item
Looking and feeling good in your clothes is down to accurate fit. One of the biggest pain points from online shoppers is that they are not confident in selecting a size.
A shopper in New York, Eden, put the benefits of virtual fitting very well:
"I have a problem of ordering a million sizes, because I never know what's going to look good on me and what's not. So this has really helped with me not having to order the four sizes that I usually do and having to deal with all the mess of the returns."
Buying multiple pieces of the same item in different sizes to ensure one of them fits is a common practice. Returns grow, costs increase and the customer experience is broken. These all contribute to the overall carbon footprint. Virtual fitting aims to tackle these challenges with accurate sizing and visualization.
As virtual fitting technology continues to improve and more companies onboard these innovations, the impact on global returns will reverberate. For example, Style.me, a 3D virtual fitting solution allows customers to choose their clothes with more confidence and accuracy, so they are less likely to make choices that lead to returns. Every return avoided is a carbon emission avoided and small wins add up to massive environmental gains over time. With a simultaneous effort from brands such as Nonetz to raise the public's awareness about the harmful effects of returns on the environment, customers will be more motivated to ditch the practice of buying-to-return.
The future of sustainable fashion needs to continue to explore solutions across the whole retail experience to realise true change.