The Mid-Body Revolution: How Style.me Helps Women with Often-Forgotten Sizing Find Solutions
2018 survey from Radial found that 51 percent of online shoppers avoid purchasing from retailers that don't offer free returns. And retailers are taking notice, offering innovative solutions
Style.me is finally answering the question many online shoppers ask themselves when shopping for clothes: "What if it doesn't fit me like it fits the model in the picture?"
All bodies are different and uniquely beautiful, and many women have shown reluctance to purchase clothes online, due to the unknown: they aren't sure how the clothes will actually it or drape on their body. In fact, a November 2018 survey from Radial found that 51 percent of online shoppers avoid purchasing from retailers that don't offer free returns. And retailers are taking notice, offering innovative solutions, like the "try before you buy" service that allows consumers to buy online and pick-up in store where they're able to try on the clothing before leaving.
Specializing in artificial intelligence, computer vision, clothing simulation, and more, Style.me is revolutionizing the apparel retail industry, touting the world's most advanced 3D virtual fitting room. The technology allows consumers to "try on" clothes virtually while shopping online to discover their best style and it, based on their own body type and shape.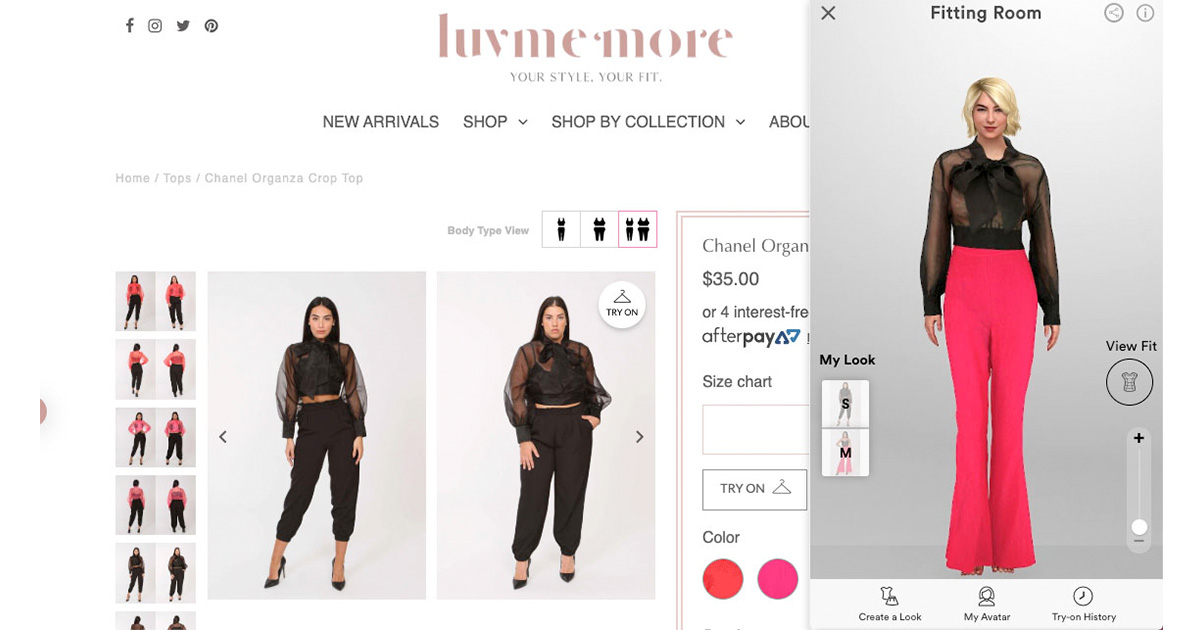 Style.me features:
Accurate depictions of body shape: Simply input three easy to know measurements to create an accurate representation of your body. You can even take it a step further and create a personalized avatar, selecting from multiple face, skin and hair options.
Tension map: Based on the description of your body type, the tension map will show where the clothes are tight and loose on your body.
Size & style recommendations: Receive immediate feedback on which size would be the best it for each garment according to your measurements. You can also style your avatar in real-time, mixing and matching different items in mere seconds to see how they look together. There's even options to see how certain garments look tucked-in and layered, to help visualize exactly how you want to wear an outfit.
High quality images: All garments on the Style.me platform are digitized in ultra high-definition 4K resolution in full 360-degrees, allowing you to see every detail of the product.
Seamless checkout: Add all of the products you wish to purchase directly to the cart from the Virtual Fitting Room, quick and easy.
With a 2016 Pew Research study suggesting 8 out of every 10 Americans shop online, StyleMe's unique technology offers a solution that brings the real life fitting experience straight to your browsers)
This virtual fitting room technology will revolutionize how regular people buy clothing online, especially women who wear what is known as the "often forgotten" size groups. In fact, a 2018 Plunkett Research survey estimated 68 percent of American women wear a size 14 or above, making that "often forgotten" size group not forgotten at all.
With Style.me's innovative fitting rooms, women of every size and shape will be able to have the confidence that their online clothing purchases will have an accurate it in the real world.